FlexTraining
Targeted Learning System
Launch Your Training System Today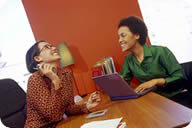 Perhaps you believe that online training systems are complex or expensive, and many are. But FlexTraining is totally different. It combines native web architecture, a streamlined management interface and a powerful set of features. It's not just easy-to-use, it's also versatile, reliable and economical.
The FlexTraining Total e-Learning Solution is as easy to license and install as it is to use for your online courses. You pay a low one-time license fee rather then expensive annual "royalty" or per-user fees.
Self-Service




Instant Training System

No need to talk to a technician or sales rep
Full, complete system - start building online courses now
Complete private FlexTraining training center at your fingertips
Secure access, coursebuilding tools, student import, progress tracking, analysis
Built-in support for text, video, images, audio narrations
Use existing material or author from scratch
Unlimited courses and authors, up to 100 online students
Use as pilot project, department prototype, proof-of-concept, or full-blown production training

Full-Service




Larger Projects, Personal Service

Professional guidance from an experienced E-Learning Consultant
Choose from 250, 1000, 5000 or unlimited user level
Consider server-based in-house system vs online subscription
Secure login, complete training framework
Point-and-click system configuration and behaviors
Learning templates and best training practices
Tech support from actual software developers
Option to move later from subscription to in-house deployment and retain your training data







© 2014 National Training Systems, Inc.